Who's going to pay bubble-valuation prices for the millions of suburban homes Baby Boomers will be off-loading in the coming decade as they retire/ downsize?
– charles hugh smith
Longtime readers know I follow the work of urbanist Richard Florida, whose recent book was the topic of Are Cities the Incubators of Decentralized Solutions?(March 14, 2017).
Florida's thesis–that urban zones are the primary incubators of technological and economic growth–is well-supported by data that shows that the large urban regions (NYC, L.A., S.F. Bay Area, Seattle, Minneapolis,etc.) generate the majority of GDP and wage gains.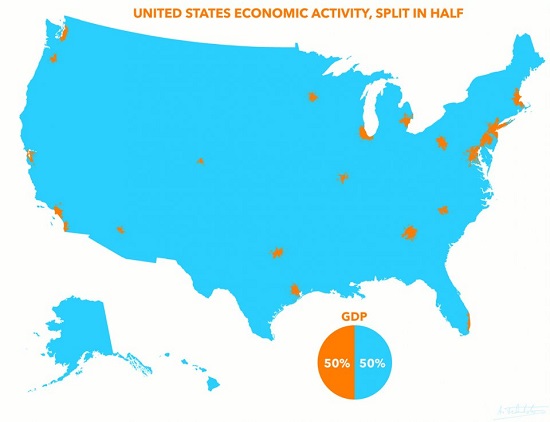 Cities have always attracted capital, talent and people rich and poor alike.Indeed, "city" is the root of our word "civilization." So in this sense, Florida is simply confirming the central role cities have played for millennia.
More recently, Florida has addressed the rising wealth/income inequality that is making desirable urban areas unaffordable to all but the top 10% or even 5% wage earners. This is a critical concern, because vitality is a function of diversity: a city of wealthy elites paying low wages to masses of service workers is not an economic powerhouse.
What happens as buying a home in a desirable city becomes out of reach of all but the most highly paid tranche of workers?
The larger question is: what happens to home ownership as housing prices continue higher while the next generation's wages remain significantly lower than previous generations' incomes?
http://charleshughsmith.blogspot.de/2017/04/who-will-live-in-suburbs-if-millennials.html