Yemeni Houthi rebels have released footage of what they say was a victorious offensive on the border with Saudi Najran province. It shows scores of captured military troops, including what seem to be Saudi officers, and hardware.
The footage was broadcast on the Houthi-run Al Masirah TV channel on Sunday. The video features a Houthi spokesman explaining the details of the military operation, which they'd dubbed 'Victory from God,' as well as live action footage from the ground.
The offensive began a couple of days ago but is said to have been planned over several months. Three Saudi-led brigades were ultimately led into a major ambush, the spokesman claimed. The battle against the brigades – said to be some 7,000-strong in total – took place on Yemeni soil close to the border with the Saudi Arabian province of Najran.
The Houthi-released footage features an ambush on a large military convoy traveling on a narrow road amid mountains. The convoy consisted primarily of armored personnel carriers, which appear to be Canadian LAV-25s.
The convoy is targeted with Improvised Explosive Devices (IEDs), artillery and small arms fire, with the opposing forces seen panicking and trying to flee, while several vehicles are hit and some even crashed into a ravine. The full footage shows some corpses, while scores of captured fighters are being led away.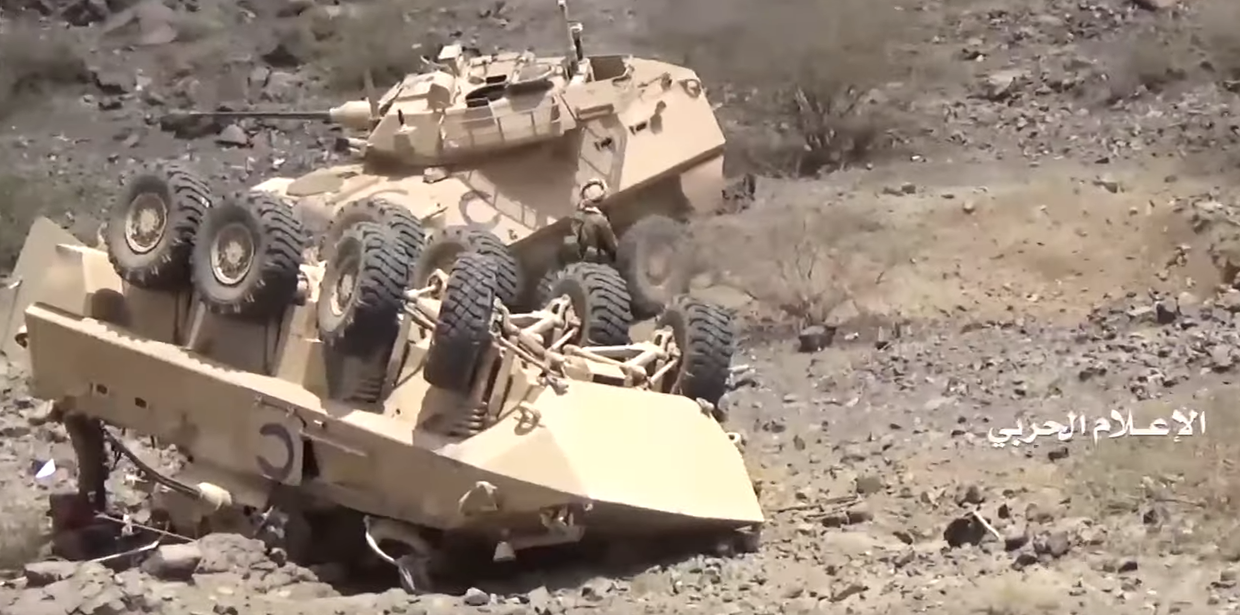 © YouTube / YemenWrath
Many military vehicles – ranging from US-made Oshkosh mine-resistant vehicles to assorted Toyota-based gun trucks – are seen abandoned in the footage. Some of the machines are burnt-out by the Houthi fighters on the spot, while others – including APCs with six-barrel rotary cannon – are driven away. …
https://www.rt.com/news/469890-saudis-captured-houthi-offensive-video/
–