U.S. Is Bent on 'Absolute Military Supremacy,' Mikhail Gorbachev Claims
Former Soviet premier Mikhail Gorbachev has urged President Donald Trump's administration to re-engage with Russia on landmark arms control treaties, warning that the collapse of Cold War-era nuclear weapon limits threatens global catastrophe.
Speaking with Japanese newspaper The Asahi Shimbun, Gorbachev lamented America's withdrawal from two key arms control treaties signed during the Cold War—the Anti-Ballistic Missile Treaty (ABMT) during President Geroge W. Bush's tenure, and the more recent withdrawal from the Intermediate-Range Nuclear Forces (INF) Treaty.
Russia has also since suspended participation in the INF Treaty, prompting concerns of a new arms race. The infographic below, provided by Statista, shows the estimated global nuclear weapons arsenals as of December 2017.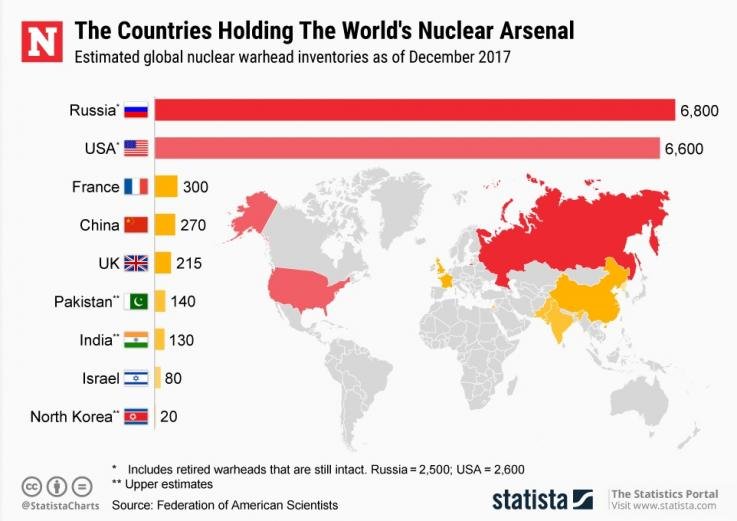 Gorbachev is a prominent advocate of nuclear disarmament. He told the Asahi he is "still praying for" the destruction of all nuclear weapons, noting that the number of warheads in Russia and the U.S. has reduced by more than 80 percent since the peak years of the Cold War.
But he warned that this "peace dividend" is now at risk with the collapse of the ABMT and INF Treaty. It is also unclear whether New START (Strategic Arms Reduction Treaty)—the successor to START I that Gorbachev helped craft—will be renewed when it expires in 2021.
The Trump administration said last year that it would ditch the 1987 INF Treaty, which banned ground-launched nuclear and conventional missiles with ranges from 310 miles 3,417 miles. The White House accused Russia of violating the deal by developing the SSC-8 missile. …
https://www.newsweek.com/us-bent-absolute-military-supremacy-mikhail-gorbachev-obsession-weapons-crazy-inf-treaty-new-start-1477626
–